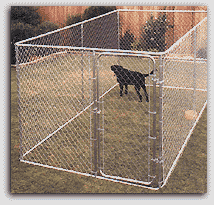 THE BIG DOG
This Kennel is a full 6' tall
Dimensions- 7'6"x13
Our satin smooth galvanized fence fabric is safe for use with expensive breeds as well as your beloved stray.

Our galvanizing process allows us to produce fence fabric that is safe for your dog as well as for your children, who will be playing around your kennel.

Our kennels is designed and engineered with the home owner in mind. The system package will include an extra large gate, illustrated instruction book and a "how-to" assembly video.